Shao shan run ze new energy Committed to building: high-purity graphite powder supply platform for Europe, America, Asia and other places to provide high-quality, high-purity graphite processing products, and long-term cooperation with suppliers and partners;
The carbon content of graphite powder processed and purified by our company can be as high as 99.9998%; Is your trustworthy manufacturer of graphite processing products
Product specifications
It is applicable to rz-hs01, a negative natural graphite product produced by Shaoshan Runze New Energy Technology Co., Ltd., and can be used as a reference for production and test. If you have any objection to the test project or test method, please coordinate with Shaoshan Runze New Energy Technology Co., Ltd.
1. Product features:
1)Composite graphite, liquid-phase coating technology, improve the coating effect, improve the degree of isotropy of the material.
2)High-pressure solid density, small expansion of polar plate, high-pressure solid suction speed.
3)Long life, high and low-temperature performance, good safety performance.
2. Scope of application:
Long life, high energy density lithium-ion battery.
3. Main technical indicators:
index
Company
Enterprise standard
Typical value
Test methods and instruments
Granularity D10

μ

m




≥

6.5

8.588



Malvern ms3000e particle size analyzer
Granularity D50

μ

m




14.0

±

2.0

14.001

Granularity D100

μ

m




≤

50.0

38.927

Compaction density

g/cm3




1.10

±

0.1

1.09

Fzs4-4b automatic Vibro densitometer
Water content

%




≤

0.20

0.03

GB/T3521-2008

Ash content

%




≤

0.10

0.05

Ditto
Fixed carbon

%




≥

99.9

99.95
Ditto
Specific surface area

m2/g

1.0-3.0

1.89

BET3H-2000

First discharge capacity

mAh/g

≥

355.0

360.5

Coincelltest

,

Discharge

:

0.1Cto1.0mV

,




0.015Cto1.0mV

;

Charge

:

0.05Cto1.5V

First discharge efficiency

%

≥

94.0

94.7

Ditto
Cycle life


%

More than 600 times

85%



0.5 charge / 1C discharge
4 Malvern particle size distribution



5 half battery test data (model: cr2016)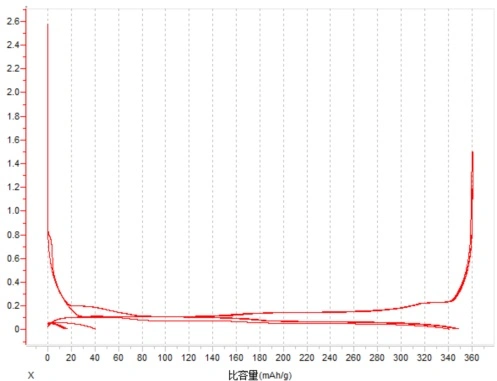 Packaging, transportation and storage
1. This product is packed in PE inner bag first and composite paper bag is used for outer packing. (customized packaging according to customer requirements)
2. In the process of transportation, it is necessary to prevent violent vibration, impact, extrusion, and exposure to the sun and rain. Vehicles, trains, ships, aeroplanes and other means of transportation shall be used.
3. Do not use materials damaged due to stress, drop, rupture or other reasons during transportation. If leakage is found, please confirm whether the materials are contaminated first. In case of any significant difference between the physical indicators of materials and the delivery report of the company's products, both parties shall be informed for confirmation or the authority shall be notified for confirmation.
4. The materials shall be stored in cleanroom without pollution source with an environment temperature range of - 5 ºC ~ + 60 ºC and relative humidity of no more than 75%; Keep away from the fire source and high heat source.
Company production batch delivery picture